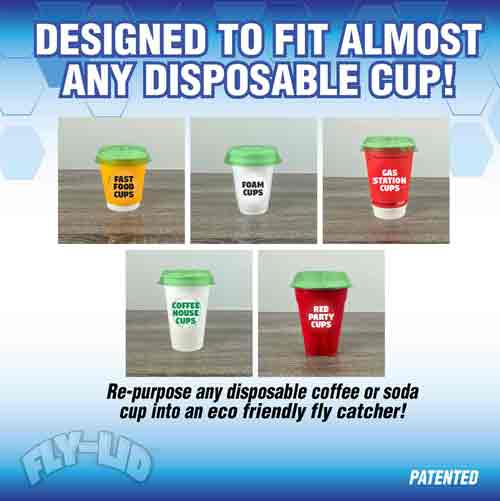 FLY-LID, HOW IT WORKS!
The Fly-Lid is an easy and effective way to rid flies from your home, patio, or wherever you may be!  The Fly-Lid will fit almost any cup.  All you need to do is add some bait to attract the flies, place the Fly-Lid on top and start catching flies! It will be easy to see how it works!
STEP 1: CHOOSE A CUP
You can re-purpose a used disposable coffee or plastic cup, or you can grab a cup from you cupboard. As long as the Fly-Lid fits on top, it should work great. The Fly-Lid works great with most disposable coffee cups, paper cups from fast food restaurants, red party cups and many more disposable cups!
STEP 2: ADD SOME BAIT
All you need to do is add something that will attract the flies. Drop a few pcs of fruit into the cup, or you can have more fun and mix up a concoction from the ingredients in your house. You can't go wrong with something sweet, and vinegar and beer, for instance, work quite well too!  If you are making a liquid bait, it you add a drop of liquid dish soap to the mix, it will help ensure that flies get stuck in the liquid mix.
STEP 3 – PUT THE FLY LID ON!
The Fly-Lid design fits on most cups.  It may fit very tightly on some cups and a little more loosely on others. It does not need to have a tight fit to work properly. Put the Fly-Lid on the baited cup and place where you want to catch the flies.  The scent travels out of the funnel and vent holes to attract the flies. They will fly into the cup and will not be able to get out.  After a couple days, it might be good idea to refresh the bait. You can pour some more bait through the funnel and into the cup to refresh the scent! When you are done with the cup, you can throw the entire unit into the trash, or you can keep the fly lid to use again.
Keep up to date by following us on Facebook
Now that you know how it works, hop on over to our shop page.